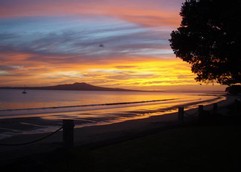 North Shore was formerly North Shore City, a distinct territorial authority district, which was governed by the North Shore City Council from 1989 until 2010, when it was incorporated into Auckland Council. The city had an estimated population of 229,000 at 30 June 2010, making it the fourth most populous city in New Zealand prior to the November 2010 reorganisation. The former city was also the country's fourth largest city in land, with an area of 129.81 square kilometres and a coastline of 141 kilometres. It was also the most densely populated city in the country because, unlike other New Zealand cities, most of the city's area was urban or suburban in character.
Transport
Commuting within the North Shore itself can be done relatively easily, but those who commute to Auckland City and need to cross the Auckland Harbour Bridge face severe traffic congestion. The alternative route through western suburbs is also prone to nose-to-tail traffic at peak times. As with the greater Auckland area, there has been much discussion regarding the problem at both national and local government levels, but very little concrete action, mostly related to the high cost and difficulty of providing additional crossings over the Waitemata Harbour. Several options for new bridges and tunnels have been studied in depth, but at the moment, the official position is to mitigate congestion effects instead of providing new infrastructure.
Sister Cities
North Shore City was a sister city of:
History
The European history of the North Shore was initially dominated by very rural settlement, with people from the "main" Auckland generally venturing there only during weekends, when the beaches and many coastal settlements were favourite daytripper goals reached by the ferries connecting the North Shore to Auckland. By the 1950s, only about 50,000 people lived on the Shore, and its growth rate was still about half that of the areas south of the Waitemata, partly because few jobs were on offer.[2]
This changed significantly with the construction of the Auckland Harbour Bridge in 1959, which opened up the Shore for Auckland expansion – vehicle volumes on the bridge became three times the forecast volume within the first decade[3] – and began turning parts of it into a dormitory town for people working in the Auckland CBD or further south. Eventually the growth became significant enough for the North Shore to be considered a city in its own right, though densities remained (and remain as of the 2000s) still below what is typical south of the Harbour.
On 1 November 2010 the North Shore boundaries were amalgamated with the rest of the entire Auckland Region, and the North Shore City Council was abolished and replaced by a single unitary city authority. All council services and facilities are now under authority of the Auckland Council.